In Advance Wars: Days of Ruin units have the ability to level up. Levels are earned when a unit destroys and opponent's unit. Each unit can be leveled up thrice. The following levels in order are: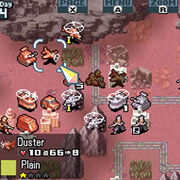 Levels

,
, and
are earned for destroying one, two, and three units respectively. The medal
is unique to the one unit on the field with a CO boarded. The medal provides the same bonuses as Level
. Each Level provides different boosts:
You can determine what the enemy is by the icon on the unit. It would be a

, a
, or a
each representing their appropriate level.
Levels are not influenced by health or cost. A bomber destroying a 1HP infantry will level up the same as destroying a 10HP war tank.
If two units join together, the highest rank is retained.