Unit Repair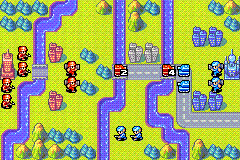 | | |
| --- | --- |
| Game | Advance Wars |
| Objective | Rout or HQ capture |
| 100 Speed Time | 6 |
| Player Units | Orange Star: Infantry*4, Mech*2, Tank*2 |
| Enemy Units | Blue Moon: Infantry*2, Mech*2, Tank*2 |
| NPC Units | N/A |
| Player CO(s) | Nell |
| Enemy CO(s) | Olaf |
| NPC CO(s) | N/A |
| Fog of War | No |
"Our troops en route to the Lost Fortress have been waylaid by CO Olaf. It's up to you to join up with them, beat back Olaf and secure the area. We need the Lost Fortress! Move out! "
—Nell
Mission Infomation
This is the fourth level of Field Training in Advance Wars. Nell tells us that Olaf has been holding back our forces from taking the Lost Fortress. This mission contains six enemies. During the battle Nell explains about unit reparing and joining. No new units are introduced but keep in mind that even though both you and the enemy have 2 tanks yours are damaged.
Strategy
The mission is a tutorial and introduces unit repairing and joining. Nell guides you only through your first 2 turns then it is all up to you to make decisions. During these turns pay attention to the joining command, it will be very helpful throughout the game. You shouldn't worry about capturing many cities in the match. Even though you can win via HQ capture it is much easier to just rout them. After Nell leaves the battle in your hands try to take out each tank without letting it retreat back to a city to heal. At this point you only have 1 tank and you don't want to lose it. Once the tanks are gone, mopping up the infantry and mechs should be easy. Even if you don't have full speed for the mission you can still get an A by making up for it in technique and Power.
Enemies
Initial Enemy
Blue Moon: Infantry x2, Mech x2, Tank x2
Reinforcements
None
Special Items
None
Properties
Gallery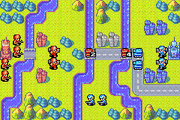 Community content is available under
CC-BY-SA
unless otherwise noted.