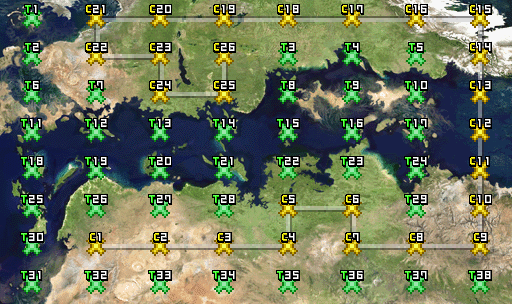 Trial Maps are optional levels found in the Advance Wars: Days of Ruin campaign. Trial maps are unlocked progressively by beating campaign levels. Additional trial levels are unlocked by beating adjacent trial maps.
Trial maps offer no reward for completion excluding potential ranks for records.
Trial maps are also available in Free-Battle mode, without any of the restrictions of the campaign mode.
List of Trial Maps
Minimap
ID
Name
Properties

Pre-Deploy

Players
COs

1
Extreme Edge
x1, x2, x2, x1, x1
x1, x2, x2, x1, x1
x9
No
2

2
Shade Coast
x1, x4, x2, x2, x3
x1, x5, x2, x2, x3
x31
No
2

3
Feline Basin
x1, x1, x3
x1, x1, x3
x6
No
2

4
Metro Island
x1, x4, x4
x1, x4, x4
x8
No
2

5
Eerie Lake
x1, x4, x2, x1
x1, x4, x2, x1
x8, x2
No
2

6
Clear Island
x1, x6, x4, x2
x1, x6, x5, x2
x13
No
2

7
Tatter River
x1, x5, x2
x1, x5, x2
x1, x5, x2
x1, x5, x2
x42, x4, x3
No
4

8
D-Island
x1, x3, x2
x1, x3, x2
x15, x2
No
2

9
Hourglass
x1, x2
x1, x2
x3, x1, x1, x1
Yes
2

10
Blade Isles
x1, x2, x3, x1, x1
x1, x2, x3, x1, x1
x14
No
2

11
Star Islands
x1, x3
x1, x3
x14, x4, x8, x8
No
2

12
Intricate Map
x1, x2, x1, x2, x1
x1, x2, x1, x2, x1
x20
No
2

13
V for Victory!
x1
x1
x1
Yes
3

14
Fragment Isles
x1, x2, x4, x2
x1, x2, x4, x2
x1, x2, x4, x2
x1, x2, x4, x2
x24, x4
No
4

15
Jay Islands
x1, x4, x2, x1
x1, x4, x2, x1
x1, x4, x2, x1
x1, x4, x2, x1
x24
No
4

16
Pentagram
x1, x2
x5
x1
Yes
2

17
Coast Assault
x8
x1, x1
Yes
2

18
Cat Island
x1, x3, x2
x1, x3, x2
x29
No
2

19
Ground Clash
x1, x2, x2, x1, x3
x1
x1, x1
Yes
2

20
Slime Cove
x1, x4, x1, x2
x1, x4, x1, x2
x16
No
2

21
Duo Falls
x1, x7, x3, x2
x1, x4, x3, x1
x14, x1, x2
No
2

22
Peril Maze
x1, x2, x2, x2
x1, x2, x2, x2
x1, x2, x2, x2
x16, x3, x4
No
3

23
Metro Map
x1, x2
x1, x1, x2
x11
No
2

24
Wedding Ring
x1, x2, x1, x1, x1
x1, x2, x1, x1, x1
x11
No
2

25
Land's End
x1, x4, x5
x1, x6, x5, x2
x12, x2, x2
No
2

26
Bounty River
x1, x3, x5, x2
x1, x4, x6, x2
x16, x5, x6
No
2

27
Time Map
x1, x3
x1, x3, x1
x1, x3
x1, x3, x1
x38
Yes
4

28
Plasma Bubble
x1, x3
x1
Yes
2

29
Triangle Lake
x1, x1, x1
x1, x2,
x3
Yes
2

30
Destiny Ocean
x1, x3, x1, x2, x1
x1, x2, x1, x2, x1
x19
No
2

31
Comb Map
x1, x7, x2
x1, x1, x1, x4
x1, x2, x1, x1
x1, x1, x3
x6, x3, x1, x1
Yes
4

32
Resistance
x1
x1
x1, x1, x5
Yes
2

33
Missile
x1
x1
x2, x4
Yes
2

34
Web River
x1, x4
x1, x4
x1, x4
x1, x4
x22, x4
No
4

35
Center River
x1, x4, x2
x1, x4, x2
x15
No
2

36
Mountain Pass
x1, x6
x1, x13
x6
Yes
2

37
Fire & Water
x1, x2, x2
x1, x2, x2
x8
No
2

38
Whirl Peaks
x1, x2, x1
x1, x2, x1
x12, x2
No
2