Terrain Intel
| | |
| --- | --- |
| Game | Advance Wars |
| Objective | Rout |
| 100 Speed Time | 3 |
| Player Units | Orange Star: Infantry*4 |
| Enemy Units | Blue Moon: Infantry*2, Mech*2 |
| NPC Units | N/A |
| Player CO(s) | Nell |
| Enemy CO(s) | Olaf |
| NPC CO(s) | N/A |
| Fog of War | No |
"A covert attack...that sounds like something Olaf would try. "
—Nell
Mission Infomation
This is the second level of Field Training in Advance Wars. Nell tells us that Olaf has sent a covert force into the Alara mountains. This mission contains four enemies. Before and during the battle Nell explains about troop defense and how it can change based on the defense bonuses that different terrain can give units.
Strategy
The mission is a tutorial and introduces terrain defense and how it can protect your units. Nell guides you pretty steadily and you shouldn't have much trouble getting an A. The only area you may have trouble with is keeping your infantry alive in the north, just remember that on the second day you don't necessarily have to attack with the weak infantry on the second day.
Enemies
Initial Enemy
Blue Moon: Infantry x2, Mech x2
Reinforcements
None
Special Items
None
Properties
Gallery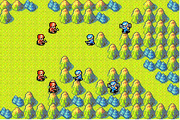 Community content is available under
CC-BY-SA
unless otherwise noted.