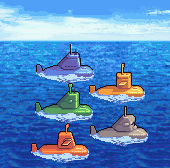 Submarines are a Naval Unit. They have appeared in every Advance Wars Game. They are very powerful and the bane of most other Naval Units, this combined with their ability to Dive makes them very effective in Sea battles. Their one main weakness is Cruisers.
Game Information
Super Famicom Wars
Game Boy Wars 3
Main article: Submarine (Game Boy Wars 3)
See also: Submarine S
Dive
Submarines have the unique option to 'Dive'. This makes them submerge and renders them invisible, unless another Unit stands next to them. While submerged they use more Fuel. While submerged Submarines may only be attacked by Cruisers or other Submarines.
Strategy
When facing Submarines make sure you have several Cruisers around your other Naval Units. Try to use smaller, cheaper Units as bait to lure them out, or if you know there's a submerged Submarine nearby, try to waste it's turns, so that it needs to refuel. Air units also fare well against submarines, as well as land indirects.
When using Submarines only dive when you need to, to conserve fuel. Always target the significant Naval Units, such as Battleships. Avoiding Cruisers is key to extending the lifespan of a submarine.
Trivia
The Orange Star Subamrine was based on the Ohio Class Submarine, hence the Orange Star based on the United States.
The Blue Moon Submarine was based on the Russian Akula Class Submarine hence the Blue Moon based on the Soviet Union.
The Green Earth Submarine was based on the German U-Boat hence the Green Earth based on Nazi Germany.
The Yellow Comet Submarine was based on the Japanese I-25 Class Submarine hence the Yellow Comet based on Imperial Japan.