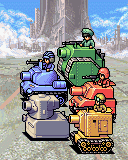 Medium Tanks are a Land Unit. They have appeared in all Advance Wars games. They have higher attack and defense than Light Tanks, but are less mobile and also more expensive. 
Information
Famicom Wars
Main article: Tank A (Famicom Wars)
Super Famicom Wars
Game Boy Wars 3
MB Tank Information

Unit Group

Initiative

Production

Power
Type
Base
Loss
Armored
3500
46
5
River Treads
70
19
2
City

Tank Cannon A

Special Commands

Attack

Details

Ammo
Price
Range
15
40
-
15
-
9
12G
1

Machine Gun A

Other abilities

Attack

Details

Ammo
Price
Range
16
3
4
1
-
9
2G
1

Defense

Other

Transport

Supply

Type
Number
45
45
18
50
-
N/A
N/A
Land
Advance Wars
Advance Wars 2: Black Hole Rising
Advance Wars: Dual Strike
Advance Wars Days of Ruin
Competitive Play
In Advance Wars 1, 2 and Dual Strike, while not without its uses, Md. Tanks was uncommon in competitive matches, especially in the early game. Generally, the majority of the units cost less than 10,000G and the Md. Tank is too expensive.
The exception would be Colin and Hachi, who could afford it without an issue. While the Md. Tank does have high defense against B-Copters (unlike regular Tanks), there are much more cost-effective ways of dealing with regular Tanks: Mechs, Artillery and more than 1 regular Tank.
Days of Ruin addressed this issue by reducing the price, and now they're more viable.
Trivia
The Orange Star's and Rubinelle's Medium Tank design is based on the US M1 Abrams.
The Green Earth's Medium Tank design bears a cross resemblance between the Sturmtiger assault gun and the Char B1 heavy tank due to its large tracks.
The Blue Moon's, Lazurian's, and IDS Medium Tank design is strikingly similar to the IS-3 heavy tank.
Although Yellow Comet's army is based on the Imperial Japanese Army, its Medium Tank design closely resembles the Soviet KV-2 Heavy Tank. Very few tanks have such a disproportionally huge turret.
Black Hole's Medium Tank vaguely resembles a German Tiger tank.
In several Victory Screens of Black Hole Rising, there are two Challenger 2 Tanks. Considered heavy tanks for their armor.
Community content is available under
CC-BY-SA
unless otherwise noted.