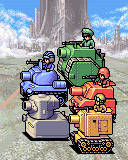 Medium Tanks are a Land Unit. They have appeared in all Advance Wars games. They have higher attack and defense than Light Tanks, but are less mobile and also more expensive. Medium Tanks are present in almost every drawn-out battles, overpowering most land units but are weak against indirect attacks and Neotanks.
Information
Famicom Wars
Main article: Tank A (Famicom Wars)
Super Famicom Wars
Game Boy Wars 3
MB Tank Information

Unit Group

Initiative

Production

Power
Type
Base
Loss
Armored
3500
46
5
River Treads
70
19
2
City

Tank Cannon A

Special Commands

Attack

Details

Ammo
Price
Range
15
40
-
15
-
9
12G
1

Machine Gun A

Other abilities

Attack

Details

Ammo
Price
Range
16
3
4
1
-
9
2G
1

Defense

Other

Transport

Supply

Type
Number
45
45
18
50
-
N/A
N/A
Land
Advance Wars
Advance Wars 2: Black Hole Rising
Advance Wars: Dual Strike
Advance Wars: Days of Ruin
Main article: Medium Tank (Days of Ruin)
Competitive Play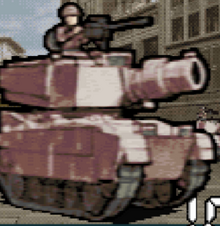 In Advance Wars 1, its sequel and Dual Strike, while not without its uses, Medium Tanks were uncommon in competitive matches, especially in the early game. Generally, the majority of early game units cost less than 10,000G and saving up for an early Md. Tank can put you at a big disadvantage. The exception would be Colin and Hachi, who with their ability to reduce unit costs, could afford it easily.
A higher cost does mean higher stats, with the Md. Tank being able to hold its own against multiple Artillery barrages, fare well against B-Copters as well as effectively eliminate low-cost units. Another drawback to the Md. Tank is its slow 5-space tread movement, which makes the Md. Tank especially difficult to engage its targets. Using cheap units to block flat terrains and delay the Md. Tank's movement can eliminate its threat completely. But if the Medium Tank does get the chance to attack, it can wipe out Infantry, all indirect units and lightly armored vehicles in just one attack, given that no defense bonuses are in play.
Days of Ruin rebalanced the Md. Tanks by reducing their cost from 16,000G to 12,000G, making them much more affordable, and rushing a single Md. Tank a viable strategy.
All in all, the Medium Tank is a heavy-hitter that can devastate the mid-game with proper economy planning and positioning. The Md. Tank's biggest difficulty doesn't just revolve around its high cost, but its slow speed as well, making it an easy target to indirect units to slowly whittle down its health, or for Light Tanks and Mechs to swarm it before it gets a chance to attack. If you can deal with the Medium Tanks' downsides, then all that's left is a juggernaut unit that can turn the tide of battle in just a single turn.
Trivia