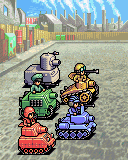 Light Tanks, commonly referred to as just Tanks, are a Land Unit. They have appeared in every Advance Wars game. They are small and inexpensive, with a large movement range, making them easy to deploy in large numbers. They are weak against Anti-Tanks, as well as other, stronger Tanks, such as the Main Battle Tank, Neotank, and War Tank.
Game Information
Famicom Wars
Super Famicom Wars
Note
Light Tanks are cheaper and have a greater movement range than their heavier counterparts. This makes them useful for reaching distant battles, though they aren't very good at delivering firepower against other tanks. Light Tanks are crucial to take control of the early to mid-game, as they are usually the only vehicular units affordable in bulk and are generally effective against other early game units. Light Tanks can harass capturing Infantry units, as well as impede Recons, APCs and Anti-Airs.
Light Tanks are also a great counter to indirect units, with their high movement range enabling them to quickly reach the indirects' blind spot and take them out in one or two turns with their Cannons.
Light Tanks however, can be wiped out easily by indirect units, their heavier counterparts or even Mechs. It's wise to use the Light Tanks' 6-space movement range to hit-and-run weaker units and deal the first blow on them to use the Tanks at their full potential.
Trivia
The tanks in the games are based on real life tanks: