Copter Tactics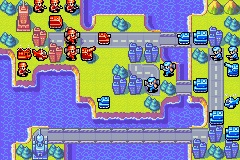 | | |
| --- | --- |
| Game | Advance Wars |
| Objective | Rout or HQ capture |
| 100 Speed Time | 3 Days |
| Player Units | Orange Star: Infantry*4, Mech*2, Tank*1, Artillery*1, APC*1, BCopter*1, TCopter*1 |
| Enemy Units | Blue Moon: Infantry*2, Mech*2, Tank*2, MDTank*4, Artillery*1, BCopter*1 |
| NPC Units | N/A |
| Player CO(s) | Nell |
| Enemy CO(s) | Olaf |
| NPC CO(s) | N/A |
| Fog of War | No |
"It appears that we have a problem. Orange Star has hit a snag in its Md Tank development program. On the other hand, Blue Moon seems to have more than enough tanks… I think it's safe to assume they have mass production capabilities. I pulled some strings and had some B copters and T copters sent down from the frontlines, but that doesn't give you all that much firepower. Nevertheless, let's make good use of them. I'll give you more details once we reach the staging area. Let's move out!"
— Nell
Mission Information
This is the seventh level of Field Training in Advance Wars. This mission contains twelve enemies. In this level you are introduced to B-Copters and T-Copters, as well as how they work.
Strategy
The mission is a tutorial and has you using the T-Copter to bring an infantry to the Blue Moon HQ. Nell guides you the whole level to make sure you know how to use the Copters correctly. The rest of the strategy will be split into two parts depending how you wish to complete the level. Capturing the enemy HQ is the recommended strategy by the game however you are able to rout the enemy if you are strategic enough.
Capture Strategy
Nell will instruct you to load an infantry or mech into your T-Copter and then fly it over to Blue Moons HQ, which is located at the bottom of the map and is undefended. Following Nells instructions you should easily get the 100 speed time for this map and move on to the next.
Rout Strategy
Using the terrain your small battalion starts on will be the key to routing the enemies four MD-Tanks. The sea next to your HQ is placed in a certain way that makes a good choke-point two tiles wide. None of your units can do enough damage to an MD-Tank for it to be worth it except your artillery unit. Set up your units in a way that maximizes the area your artillery can hit while blocking it with other troops. Use your own B-Copter to attack the enemies B-Copter and your tank to deal damage to the enemies tank, then move your T-Copter into the enemies B-Copters range as a decoy. The enemy B-Copter will try and take your T-Copter down but will take a few days to do that, in the meantime use your B-Copter to defeat the enemy artillery. If you can bring your tank back behind your wall now would be the time to do so. Using your infantry and mechs set up a wall that will stall the enemy MD-Tanks. Keep your APC out of range of the enemy for now, you'll use it in the wall shortly after there is one MD-Tank left. As long as you don't try anything dumb to speed up the process you will succeed in routing the enemy and treated with some special dialogue because of it.
Nell: You routed the enemy? Amazing! I have to admit, I didn't think you could destroy them all! Keep up the good work! Outstanding!
Olaf: All of my beautiful units… gone? Impossible! Nell couldn't possibly do this on her own. Grrr… This isn't over yet!
Of course routing the enemy will take way longer than three days so you won't get an A for this level using this strategy.
Enemies
Initial Enemy
Blue Moon: Infantry x2, Mech x2, Tank x2, Medium Tank x4, Artillery x1, B-Copter x1
Reinforcements
None
Special Items
None
Properties
Gallery
Previous mission:
Tank Ops

Copter Tactics
Next mission:


Air Assault