Bikes(Days of Ruin) or Motorbikes(Dark Conflict) or バイク兵(失われた光) are a kind of Infantry Unit. They have a high level of mobility and have the ability to capture bases. They are weak in comparison to non-infantry units. Bikes cost 2500 G. They have a slightly higher firepower than that of the Infantry. They move faster than foot soldiers and are valuable in the start of any game, especially when used to quickly capture cities and other bases. Other than the lack of a bazooka, they have the same offensive and defensive power as a Mech.
Bikes are initially introduced in Days of Ruin, and become buildable in New Allies.
Tactics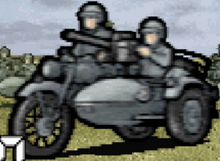 Bikes have the same attack power (referring to their MG) and defense power as Mechs but have the highest movement range of all infantry units. This makes them valuable when capturing bases that are far away quickly and is cheaper than building a Rig plus an Infantry unit.
An advantage here is that Bikes offer high infantry movement range at a cheap cost of 2500 G. This allows harassing tactics to be used. It is important to note that Bikes are considered as infantry rather than vehicles which means any vehicular unit will use its MG rather than its cannon to deal with them.
When facing hit & run attacks from Bikes, it is advisable to use vehicular units to since the Bikes only weapon is its MG.
Matchups
Bike Matchups

Opposing unit

Damage given

Damage taken

Primary
Secondary
Primary
Secondary
-
65
-
45
-
55
-
55
-
55
-
55
-
18
-
65
-
15
-
70
-
5
105
-
-
8
(35)
70
-
5
(40)
80
-
1
(45)
95
-
15
85
-
-
35
65
-
-
35
90
-
-
35
-
-
-
20
-
-
-
-
-
-
-
-
110
-
-
-
45
-
-
-
85
-
-
12
(35)
65
-
35
-
-
-
-
70
-
-
-
-
-
-
-
-
-
-
-
-
-
-
-
-
-
-
-
-
-
-
1
-
-
-
1
5 HP
-
-
1
Laser

8 HP

Mortar

5 HP