Battle Helicopters, shortened as just B-Copters, are an Air Unit. B-Copters are well-rounded Air Units that can attack a wide variety of targets.
Game Information
Super Famicom Wars
Matchups
Battle Helicopter Matchups

Opposing unit

Damage given

Damage taken

Primary
Secondary
Primary
Secondary
40
75
-
7
50
75
-
9
10
1
-
12
25
4
-
11
45
6
-
10
55
9
-
10
Armored Personnel Carrier
60
10
-
9
New Model Tank
-
1
-
12
65
40
-
-
60
25
-
-
Rocket Launcher
65
35
-
-
30
3
-
15
60
25
90
-
30
6
85
-
Anti-Air Missile Launcher
65
35
95
-
Fighter
-
-
95
65
Attacker
-
-
75
55
Bomber
-
-
-
-
Battle Helicopter
-
45
-
45
Transport Helicopter
-
60
-
-
Battleship
25
-
75
20
Escort Frigate
40
-
-
45
Lander
65
-
-
-
Submarine
-
-
-
-
Game Boy Wars 3
Battle Helicopter Information

Unit Group

Initiative

Production

Power
Type
Base
Loss
Air
5000
52
6
Helicopter
60 (-3)
24
3
Airport

Air To Surface Missiles

Special Commands

Attack

Details

Ammo
Price
Range
25
18
-
16
-
5
20G
1

Gatling Gun A

Other abilities

Attack

Details

Ammo
Price
Range
33
20
30
1
-
7
3G
1

Defense

Other

Transport

Supply

Type
Number
27
27
20
28
-
N/A
N/A
Helicopter
Battle Helicopter S Information

Unit Group

Initiative

Production

Power
Type
Base
Loss
Air
5500
55
7
Helicopter
70 (-3)
29
3
Battle Helicopter Promotion

Anti-Tank Missiles A

Special Commands

Attack

Details

Ammo
Price
Range
-
32
-
-
-
2
13G
1-2

Gatling Gun A

Other abilities

Attack

Details

Ammo
Price
Range
33
20
30
1
-
9
3G
1

Defense

Other

Transport

Supply

Type
Number
32
32
24
35
-
N/A
N/A
Helicopter
Strategy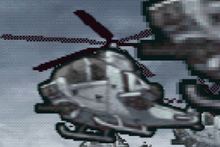 Battle Helicopters are an incredibly versatile unit, being able to attack many kinds of units. Against light vehicles, Infantry and other copters, they are devastating. Their firepower is on-par with that of a Light Tank, and their effectiveness is even more enhanced by their quick movement and cheap cost.
Defensively, B-Copters are well protected from vehicles such as Tanks since they cannot attack B-Copters with their cannons. However, keep them away from Anti-Airs and Fighters as they can easily destroy copters in one attack. Even if B-Copters get the first strike on Anti-Airs, they will always take severe damage in the counterattack while dealing middling damage. Against other B-Copters, whichever unit attacks first will significantly impair the other.
Against Naval Units, an undamaged B-Copter deals around 2 or 3 HP to any naval unit given that no bonuses are in play. This makes them an extremely cost-effective counter against Battleships, especially if you have no ships of your own and the Battleship is out of your indirect units' range.
Competitive Play
B-Copters are the most commonly used aircraft in the series. They offer a lot of damage and versatility for just 9000G and can attack almost every unit. As they are quick units that can traverse any terrain, B-Copters are excellent units to flank enemy indirects and to hold small chokepoints. They can also easily get out of harm's way, making them an important target to take out.
As Fighters and Cruisers are too expensive to be viable in most games, Anti-Air Tanks and Missles are the only real threat to the B-Copters. Even then, the copters can easily be shielded by other units or just move out of their attack range. This makes B-Copters a reliable counter to other B-Copters.
They are even stronger in numbers, with 3 of them being able to take out most units within 2 turns. Against heavily armored tanks, B-Copters are stronger in offense than defense, so it's crucial to properly position them and wait for the opportune time to attack. Although B-Copters struggle to deal damage to Medium Tanks and Neotanks, the same applies to them as well. In addition, B-Copters are much cheaper than the aforementioned units. For these reasons, B-Copters serve as a sort of "soft counter" to Medium Tanks and Neotanks.
The Yellow Comet CO Sensei increases the firepower of B-Copters by 50%. Considering their low cost and their even higher firepower, his B-Copters are a serious force to be reckoned with. Anti-Air Tanks should be a priority over regular Tanks; use them to scout out and pick off any unsuspecting B-Copters to put an end to their threat. Be aware that Sensei players tend to use Mechs, units who also have higher firepower under Sensei's command. Mechs are deadly to Anti-Airs if they get the first strike, so take care to avoid any of those engagements.
Trivia
The Orange Star helicopter is based on the American AH-64 Apache.
The Blue Moon helicopter for some reason is based on the American Bell-407.
The Green Earth (surprisingly), Lazurian Army and IDS helicopters (the latter two more correctly) are based on the Russian Mi-24 'Hind'.
The Yellow Comet helicopter is another oddball out, based on the American Bell-47. In the real-life, Battle Helicopters were not yet produced during WWII and helicopters weren't used as gunships until the Vietnam War, by which time the Bell-47 was retired.
The Rubinelle helicopter (Both 12th Battalion and NRA) is based on the American AH-1 Super Cobra.
In Dual Strike, the information page says that Battle Helicopters are powerful against Cruisers and weak against other naval units. However, Battle Helicopters appear to do approximately the same amount of damage to Cruisers as they do to other naval units.
Community content is available under
CC-BY-SA
unless otherwise noted.